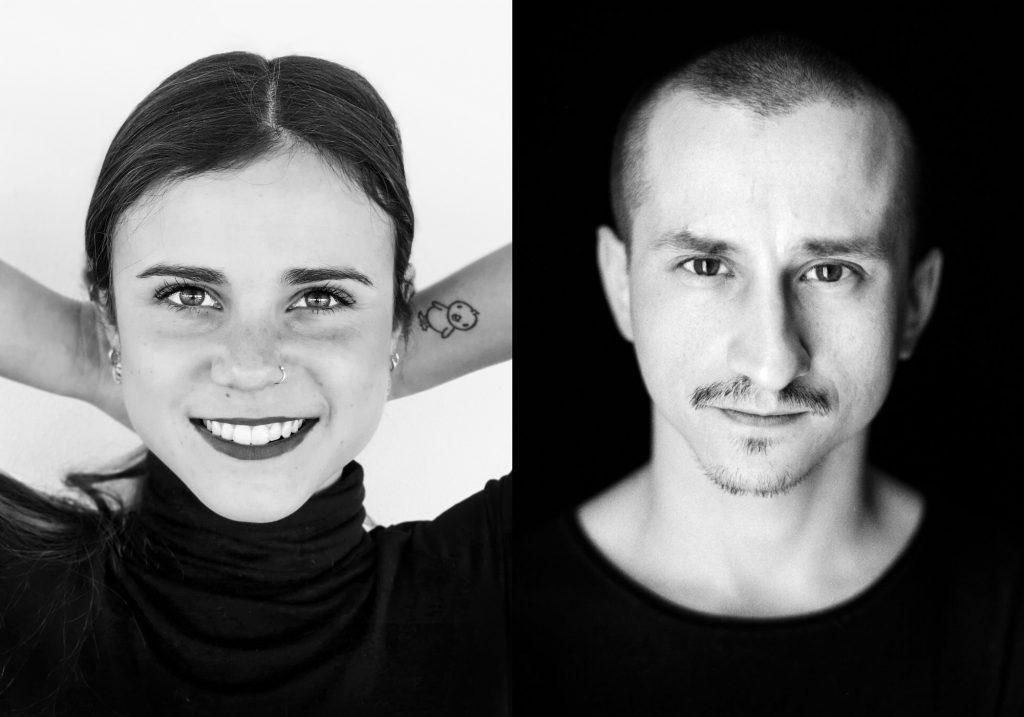 Miller de Nobili was established during the 2020 lockdown, as an artistic collaboration between Maria Chiara de' Nobili and Alexander Miller. Connected by a shared vision, they aimed to develop a platform that seamlessly integrates their joint passions for breaking, contemporary and urban dance theater, alongside acting techniques. Their debut collaboration, "Momento" earned the prestigious Production Prize of the Scapino Ballet at the 35th Choreography Competition in Hannover. Driven by their dedication to innovation, virtuosity, and careful attention to detail, Miller de Nobili steadily gained recognition and success through a series of captivating creations. Their full-length work "PACK" was premiered in September 2021 as part of the "Dancing About" festival as a co-production with Tanzpakt Dresden at Hellerau – European Centre for the Arts. After its successful debut, "PACK" was presented at the Tanzplattform Deutschland 2022.
In 2022, Miller de Nobili produced "clouds for tomorrow" which was premiered at PACT Zollverein in the frame of the ATELIER No. 66. The work was invited to be presented at the Tanzplattform Bern, the Tanz Labor Ulm and the 36. international choreographic competition in Hannover. In the same year, MdN produced two original short creations. "Stay" produced by SILK Fluegge (Austria) & Pottporus e.V., as well as "up the slippery slope" for Think Big 2022, supported by the Staatsballett Hannover.
In November 2022, MdN premiered their latest full-length production "Don't you dare!" co-produced by Hellerau – European Centre for the Arts and supported by Residenzzentrum tanz+. In 2023, MdN was selected to receive the 3 year concept funding by the city of Dresden. They also participated in the Rotterdam International Choreography Competition (RIDCC) with their latest short creation, "Until Again." In the same year, MdN choreographed a new creation titled "Song of the Dark Forest" for the Scapino Ballet Rotterdam. The upcoming 2024 full-length creation will be developed through a series of artistic development residencies spread throughout the year in collaboration with international institutions such as AGORA of Montpellier Danse in France, Teatros del Canal in Madrid, Spain, and Residenzzentrum Tanz+ in Baden, Switzerland. These multiple residencies will provide resources and opportunities for the project's continuous growth and refinement.
Maria Chiara de' Nobili and Alexander Miller have supported/funded by the City of Dresden, Office for Culture and Monument Protection, Cultural Foundation of the Free State of Saxony, Eu-Culture Moves, Dachverband Tanz (Kreativ Transfer, Dis-Tanzen Solo), and Fonds Darstellende Künste with funds from the Federal Government Commissioner for Culture and the Media as part of NEUSTART KULTUR.
---
M. Chiara de' Nobili
Born in Naples, Maria Chiara de' Nobili earned her Bachelor's degree in contemporary dance from Dancehaus Milan and enriched her dance education by participating in the KCDC dance journey program in Israel. In the same period she started creating and performing her own works. In 2018, Maria Chiara de' Nobili was selected for the Biennale College Choreographers Program, hosted by La Biennale di Venezia. In 2019, she returned to La Biennale di Venezia as a guest choreographer, commissioned by Marie Chouinard to create and perform "Wrap," a full evening piece. In 2020 M. Chiara de' Nobili finished her Master of Arts in Choreography at Palucca university for dance Dresden. In the same year de' Nobili collaborated with media artist Ulf Langheinrich to create the performance "VORTEX," which premiered at Hellerau – European Centre for the Arts. The performance was later presented at venues including Le Volcan, Le Manege, Schauspielhaus Bochum, and Teatros del Canal. From 2021 to July 2023, Maria Chiara de' Nobili is participating in the artistic masterclass program at Palucca University of Dance Dresden. Over the course of two years, de' Nobili has been researching the implementation of acting practices in choreographic research.
Alexander Miller
Alexander Miller has started with breaking in the age of 12 and developed his own distinctive style over the past two decades drawing inspiration from contemporary dance and acrobatics. In 2013, Miller co-founded the Breaking crew "THE SAXONZ," achieving three qualifications for the Battle of the Year, the unofficial world championship within the breaking environment. This success led to a close collaboration with Hellerau – European Center for the Arts, resulting in numerous joint projects, such as the innovative format Floor on Fire and the self-initiated event Open Your Mind – Dresden. Miller studied at the Bauhaus-Universität Weimar, earning a Master of Arts in Visual Communication in 2017. Subsequently, he completed a choreography program at the Palucca University of Dance Dresden, obtaining a second Master of Arts in 2020. As a freelancer, Miller has demonstrated versatility in the creative arts, working in graphic design, photography, video, and content creation. In 2022, Miller received the danceWeb Scholarship from the Lifelong Burning and Impulstanz Festival in Vienna, further acknowledging his dedication to his craft.
Photo: (2)Erik Groß
---
Gefördert durch die Beauftragte der Bundesregierung für Kultur und Medien im Programm NEUSTART KULTUR, [Hilfsprogramm DIS-TANZEN] des Dachverband Tanz Deutschland."